In general, specifications of hydro electric power systems vary depending upon the installation location. The hydro turbine and generator employed therein are custom manufactured in accordance with site conditions.

However, this approach, especially for small scale hydro turbines and generators, is inefficient, requiring a high construction cost which is not economically viable.

In order to improve the economic viability, we have developed a new concept to improve the manufacturing and construction efficiency of hydro turbine and generator sets for small scale hydroelectric power generation, through a mass production approach.

We present a new product, Hydro-eKIDS™, for Low Head and Small Scale Hydroelectric Power Plants.
What is the Hydro-eKIDS™?
Wide Output Range of 1 to 200 KW with four standard Propeller Turbines and effective head between 2 and 15m.
Flexible Application for Various Types of Sites
With parallel arrangement for larger discharge and a cascade arrangement for higher effective head.
Small and Comapct Package
To facilitate transportation and handling.
Reduced Construction Cost
Achieved by adopting a straight pipe-in shape for turbine water passage, which simplifies construction work.
Reduced Concrete Volume for Foundation
Achieved by mounting the generator on the turbine structure.
For over a decade, TPSCI has been actively involved in the hydropower industry business. The group designs and manufactures small and medium-size hydropower plants up to 5 kW - 30 MW unit size.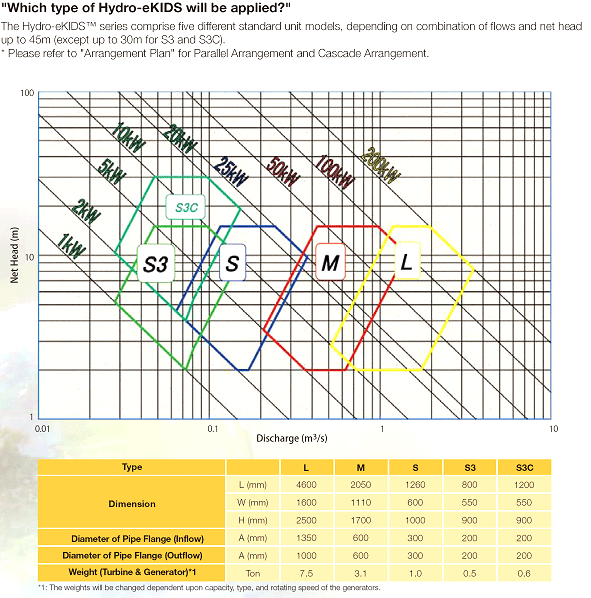 Hydro-eKIDS™ Type S

| | | |
| --- | --- | --- |
| Discharge 0.1 | : | 0.3 m3/s |
| Head 2 | : | 15 m |
| Power 5 | : | 25 kW |
| Dimension | : | 1200LX660DX1200H |

Hydro-eKIDS™ Type M

| | | |
| --- | --- | --- |
| Discharge 0.1 | : | 1.4 m3/s |
| Head 2 | : | 15 m |
| Power 5 | : | 100 kW |
| Dimension | : | 2150LX1120DX1800H |

Hydro-eKIDS™ Type L

| | | |
| --- | --- | --- |
| Discharge 0.1 | : | 3.5 m3/s |
| Head 2 | : | 15 m |
| Power 5 | : | 200 kW |
| Dimension | : | 3600L X 2800D X1800H |
| | | | | |
| --- | --- | --- | --- | --- |
| SL. NO. | Name of Project | Location/Country | Name of the Employer | Scope of Work |
*

Currently under execution